Maroš Šefčovič, Vice-President of the European Union and responsible for the Union Energy project team, has visited Donostia-San Sebastian lighthouse city to know about "Urumea Riverside" neighbour, which is the pilot district of San Sebastian lighthouse within REPLICATE project framework, along with "Novoli / Cascine / Le Piagge" district in Florence and "Ashley, Easton & Lawrence Hill" district in Bristol. All these initiatives are coordinated and leaded by Fomento San Sebastián and have been funded by Horizon 2020 Programme (SCC1 Smart Cities and Communities) with the aim of promoting the development of new technologies, electric transport and energy efficiency.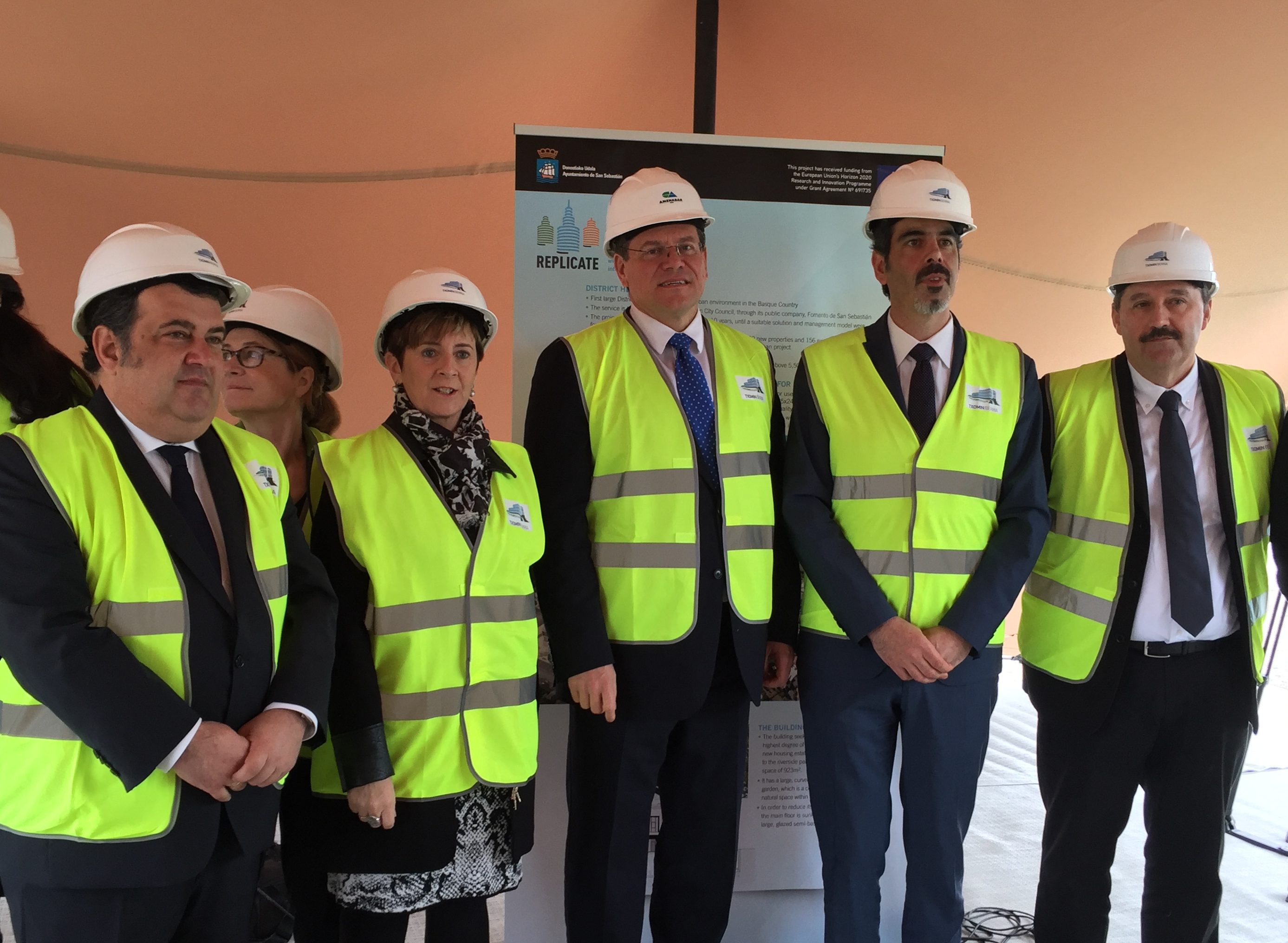 From right to left: Ernesto Gasco, Arantza Tapia, Maroš Šefčovič, Eneko Goia and Euken Sesé.
Minister of Economic Development and Infrastructures of the Basque Government, Arantza Tapia, and Mayor of San Sebastián, Eneko Goia, lead the visit on March 17th with the participation of Mikel Anton (Director of European Affairs of the Basque Government), Ernesto Gasco (Councillor of Economy), Euken Sesé (Director of Fomento San Sebastián), Igor Gonzalez (Manager of dBus), Iñaki San Sebastián (General Director of Tecnalia), as well as representatives of Amenabar and Campezo, two of the companies working on the Txomin Enea neighbourhood development.
Fomento de San Sebastián, besides being REPLICATE Project's leader and coordinator, is San Sebastían city pilot leader and its "Urumea Riverside" plan includes "District Heating", a project of energy efficiency, in the new neighbourhood of Txomin Enea currently under construction; building retrofitting, sustainable mobility by the acquisition of electric vehicles within the municipal mobile fleet, installation of electric recharging points in different areas of the city and implementation of a total electric bus line; smart public lighting; and connectivity improvement by deploying a high-speed network.
The development of the project has been highly valued by the Head of Energy Affairs, the Minister of Economic Deployment and Maroš Šefčovič himself, due to its vision in favour of urban sustainable development policies. As the EU Vice-President stated, "it's important to consume energy in a sustainable way, as San Sebastian project does."
San Sebastian pilot – Urumea Riverside
Actions in San Sebastian will be developed in Martutene and Txomin neighbourhoods, in Polygon 27 industrial area and Ametzagaina green area. The project will have three different aspects: energy efficiency, sustainable mobility and ICT infrastructures.
On the one hand, there will be a building energy retrofitting develpment and an energy efficiency project thanks to a centralized district heating system. On the other hand, electric mobility plan will be carried out in that area and in the whole city by deploying new buses, e-motos and electric cars; stations and charging points. Lastly, regarding ICT, a Smart City Platform will be developed to manage all information on municipal services, taking citizen participation into account. REPLICATE project also includes the installation of efficient and smart public lighting networks (LED technology), as well as, a high-speed network to improve neighbourhood connectivity.
The total budget for the project is € 29 million, 25 of which are subsidized by the European Union. San Sebastián will receive 11 million euros from the total amount, which will be managed through the different departments of the Municipalty and other companies and entities that are collaborating: Fomento de San Sebastián, Dbus, Ikusi, Tecnalia, Eurohelp, Giroa, Leycolan, Euskaltel and Sistelec.
Find out more about San Sebastian pilot here.