Replicate project representatives will attend the Smart City Expo World Congress Barcelona 7th edition on the 14th-16th of November.
The Smart City Expo has become a record-breaking edition that will bring together more than 17.000 visitors, with over 650 exhibitors, along with high-level representatives from more than 700 cities and over 420 experts of more than 420 countries. The most relevant leaders and city representative from the world´s most innovative cities will be there. Replicate representatives from our lighthouse cities and other project partners will take part in this edition.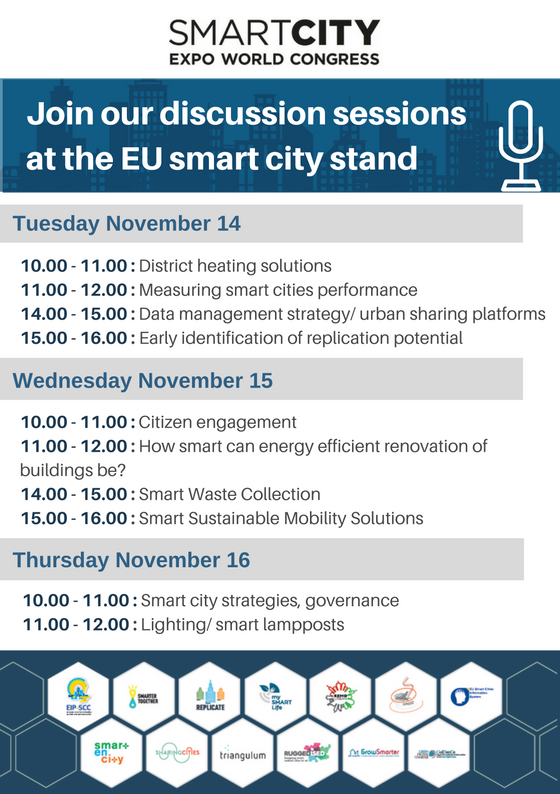 During these days, the Replicate project will be involved in many sessions within other Horizon 2020 SCC01 sister projects at the EU smart city stand. Speaking sessions will be organized during the three days of the Expo:
Fomento San Sebastian will participate in the "District heating solutions" and "Measuring smart cities performance" sessions as a speaker on the 14th.
Moreover, Florence representatives will be involved in "Data management strategy/urban sharing platforms" and "Smart Sustainable Mobility Solutions " sessions on the 14th and 15th.
Representatives from Bristol will take part in the "Citizen engagement" and "Lighting/Smart Lamposts" discussion sessions as well on the 15th and 16th.
ESADE will participate in "Early identification of replication potential" session and also in the "Smart city strategies, governance" session.
In the afternoon of the Wednesday 15th, a networking cocktail will also happen, where the project representatives will have the opportunity to share ideas, latest developments, real solutions and products. All of them will take the advantage of being in contact with another sister projects.
The Replicate project is really proud of being part of this global community. Join these interesting sessions on the stand D450. Find out the stand on the following map:
Stay tuned to the Replicate project and the Smart City Expo official Twitter accounts and #SmartCityExpo  and #SCEWC17 official hashtags to receive update information about the event.
Learn more about the event here: http://www.smartcityexpo.com/en/