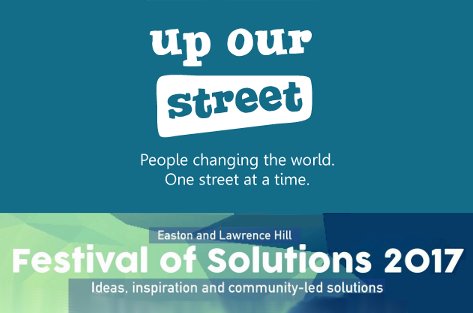 Festival of Solutions at Easton Community Centre  is part of a lively and fun day of ideas, inspiration and discussions about community-led solutions. Organised by Up Our Street in collaboration with Knowle West Media Centre and URBACT, this community event will share the findings of Up Our Street's local research about wellbeing.
On Saturday, March 25th, from 11AM to 6PM, attendees will hear findings from the community research, take part in workshops and hear inspiring ideas, as well as hearing about Bristol's Resilience Strategy and the REPLICATE project which is using technology to tackle urban issues.
At the festival, you'll find a warm welcome chance to meet other people from the neighbourhood and workshops about making connections, the local environment and a chance to explore thoughts on other issues of living in the area.
There will also be a free screening of the film "Tomorrow (Demain)" as part of the event #DemainFilm, which focuses on solutions and actions for climate change.
Find out more about the event here and check #UpOurStreetFest for updates and live coverage.