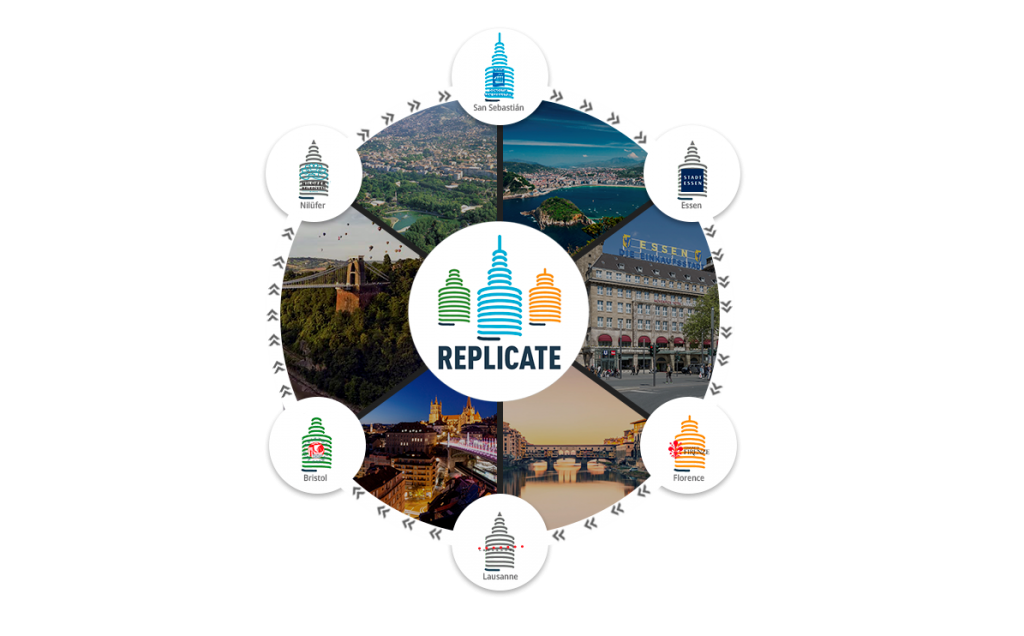 The Replicate project coordinated by Fomento San Sebastian is working on its replication activity entitled City to City Learning Programme (#City2CityLearning), led by the University of Oxford as the coordinator of the project's replication activity. The Replicate project, co-financed by the H2020 programme contract number 691735 (SCC1 European Call for Smart Cities and Communities), has celebrated 4 webinars during the first 6 months of the year and 2 more webinars will be presented in the next months to enhance the knowledge sharing among partners.
San Sebastian´s lighthouse city webinar was the first one celebrated in February and shared experiences and knowledge about the excellence of service provision based on data monitoring and smart management. Data exploitation, impacts and benefits as well as the barriers and the lessons learnt were shared, in order to facilitate replication in other cities.
The second webinar of the year was presented by the follower city of Essen under the title "How dedicated Innovation Hubs Accelerate the Smart and Sustainable Transition in Essen". Different stakeholders shared their perspectives on Essen's transition towards a smarter and more sustainable city in this second session of the programme.
Florence webinar Go fast, go green, get connected: that's smart! presented how the topic of mobility is so relevant for the development of a smart and sustainable city strategy. Insights on the actions and measures the city is taking on its way to a zero-emission urban mobility model were presented.
Roadmap for the realization of an eco district was the topic presented by the follower city of Lausanne focused on the experience sharing about the complexity and ambitious project of developing an eco district.
Bristol lighthouse city will be in charge of presenting the 5th Webinar, the 26th September, about the collaboration with communities; creation of the cities we need. The last webinar of the programme, led by Nilüfer follower city will present the socio-economic development from below.
The collaboration level of all partners has been remarkable and contributed to the exchange of experiences, best practices, lessons learnt, barriers and replication potential of the actions. The 'City-to-City-Learning' was designed to reinforce and foster collaborations among the three lighthouse and follower cities of the project. So far, Replicate has achieved a significant result by providing interesting outcome among stakeholders and participant cities.
Here you can find more details about the webinar series City2City Learning Programme: click here
The webinars are available here: click here