How can Lighthouse City Smart Solutions be replicated in Follower Cities? The SCC Replication Workshop held at INEA (Innovation and Networks Executive Agency) in the city of Brussels aims to answer this imposing question on the 26th of January 2018.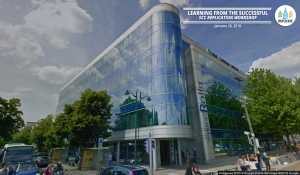 A hundred people from the SCC01 Lighthouse projects and members from the European Commission will be taking part on the event. Different colleagues from our Lighthouse cities (San Sebastián, Bristol and Florence), our Follower cities (Essen, Lausanne and Nilüfer), as well as our partners on Replication from Oxford will be acting on behalf of and in representation of the Replicate project.
The event's attendees will be able to participate in a series of workshops, panels and roundtable discussions during the day; from 10:00 AM to 17:15 PM, led by the Replicate project as well as other SCC projects.
As to provide the Follower Cities with the opportunity to learn different perspectives and discuss new ideas on the same topics of interest, the roundtable discussion at 11:00 AM will be replicated at 13:30 PM after luncheon: each of these discussions will handle themes of particular interest regarding Low Energy Districts, Integrated Infrastructures and Urban Mobility, from the views of different industrial partners and Lighthouse Cities. Once these discussions are over, key notes will be gathered and promptly presented by the moderators during the afternoon, handling topics such as the barriers which have been punctuated in each of these implementations.
Replicate members from the city of San Sebastián will act as moderators during one of the roundtable discussions on Building Retrofitting, and later as presenters during the session on District Heating. Florence's representatives will take on presenter roles on the Recharging Infrastructure session.
We will keep you updated with the latest information regarding the event!